Bi-Annual: March & September
RJPSS 2018 Vol. 43

RJPSS 2017 Vol. 42

RJPSS 2016 Vol. 41

RJPSS 2015 Vol.40

RJPSS 2014 Vol. 39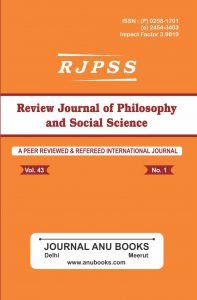 REVIEW JOURNAL PHILOSOPHY & SOCIAL SCIENCE
---
ISSN: (P) 0258-1701 (e) 2454-3403 – Since 1977 (Print) 2014 (Online)
Online ISSN Certificate Received on 8th July 2015
Impact Factor: 3.9819 (ICRJIFR)
---
Editor: Prof. Shweta Prasad, Dept. of Sociology, BHU, Varanasi.
Email: rvjpsseditor@gmail.com
---
Aim & Scope
Publication Ethics
---
Editorial Board 2018
---
Subject: Sociology & Social Work, Education, Philosophy, Mass Communication, Journalism, Library Science
---
Annual Subscription for Libraries: Rs.1200/-
We do not have any subscription charges for publishing an article.
Acknowledgments